Game Chili Kit! When the weather starts to get CHILI, or the big game is on, it's time for the Game Chili Kit. Venison, Elk, Bison and Piedmontese beef will take your chili to the next flavor level.
This package contains:
1 LB. (PKG) Venison Ground
1 LB. (PKG) Bison Ground
1 LB. (PKG) Piedmontese Ground
1 LB. (PKG) Bison Stew Meat
1 LB. (PKG) Elk Stew Meat
Recipe
Fossil Farms Game Chili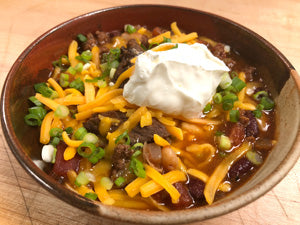 Download printable .pdf file.
Yield: Serves 12-16 people
Ingredients
1 ea. Fossil Farms Game Chili Kit - includes Elk & Bison Stew meat, Venison, Bison and Piedmontese ground.
2 ea. onion, chopped
3 cloves garlic, chopped
4 stalks ea. celery, diced
80 oz. (5- 16 oz. cans) crushed tomatoes
16 oz. can tomato sauce
1 ea. small Anaheim chili pepper, chopped
1 ea. can navy beans
1 ea, can kidney beans
2 tbsp. oil
Salt & pepper to taste
Directions
In a large pot over medium heat, add stew meats until brown. Add celery and onions, cook until vegetables are soft. Add ground meats and cook until brown. Add garlic, pepper and chili powder and mix through. Deglaze with red wine, add beans and mix through. Add crushed tomatoes and tomato sauce and season with salt and pepper. Lower heat and simmer for 2-3 hours. Garnish with your favorite toppings.
Will order again
So delicious! Buy this stuff! Right now!
Haven't cooked it yet
Got it, but have not cooked it yet. Planning a small group to enjoy it with.
Awesome Assortment
Absolutely loved the game chili kit. Used it in my elk chili recipe and couldn't have been happier.